WELLNESS WARRIORS HUB
Nourish Yourself, Move Your Body, Nurture Your Mind & Elevate Your Consciousness!
TRY 1 WEEK FOR FREE!
The Wellness Warriors Hub is a membership platform designed to help women become the best version of themselves and champion wellness into their communities by transforming into wellness warriors who are fierce, brave, courageous and unapologetically their authentic best selves!
This is done through 4 easy core actionable steps each week, that focus on nourishing yourself, moving your body, nurturing your mind & expanding your knowledge! For a small fee each week, you will be provided with;


+ Weekly Meal Plan & Shopping List

+ Workout of the Week (10min at home workout by a fitness expert!)

+ Meditation of the Week (5-10min meditations by teachers!)

+ 40min MasterClass (expert interviews on gut, immunity, empowerment, sobriety, hormone, mindset, health or a class with me on various women's wellness topics!)
You will also have access to;

+ 100 + Recipes (aimed at healing your gut, balancing hormones, increasing energy, improving mental clarity and weight loss)

+ Workout Vault

+ YOGA Classes

+ Naturopathic Corner

+ Coaching Webinars

+ Meditation Vault

+ 50 + Affirmations

+ MasterClass Videos & Tutorials

+ Live Weekly FB Q&A

+ FB Community Support Group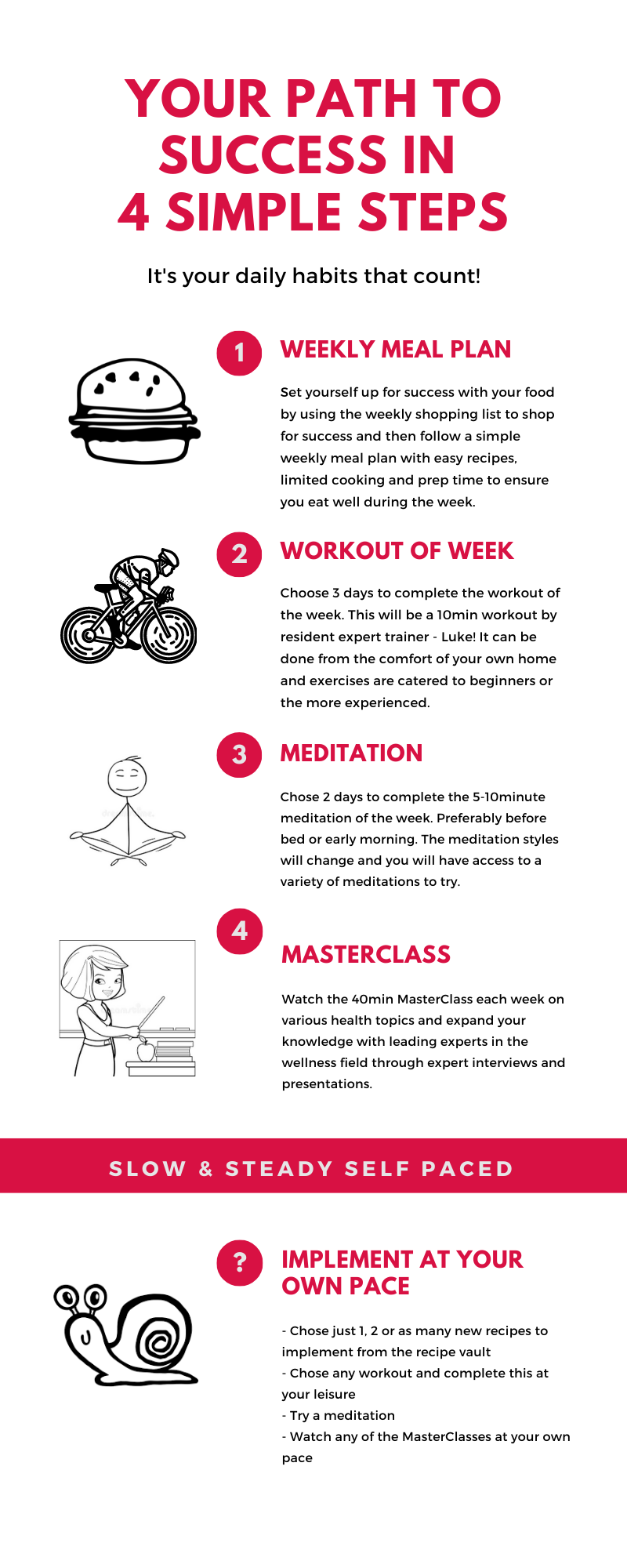 It is my vision to create a community and place where busy women from all walks of life can have a
SIMPLE, ONE STOP SHOP
to access good food, do-able workouts, some easy mindset tools & education from all areas of health and wellness!

So come on board and join a community of like-minded, supportive, empowered women who are choosing to take control back of their lives and THRIVE rather than just survive!


Let's embody wellness and transform into WARRIORS for our health, the health of our families and those around us! Your HEALTH IS YOUR WEALTH!


Be Brave

Be Bold

Be Courageous

Be Fierce

& Most Importantly.....

Be Unapologetically AUTHENTICALLY YOU!


YOU deserve this!
Invest in YOU
& your future self for simply the price of a cup of coffee!

You've got this beautiful xx



NEW - VIP MEMBERSHIP AVAILABLE
Why not come on board as a VIP Member, so you can maximize your membership and get the tailored, individual guidance and
support you need?
Sign up as a VIP MEMBER & you will get.....


1 x 1hr Group Coaching Session with me each month!
(Groups are capped a 6 people per group, this ensures I spend one on one time with you diving deep into your mindset, sabotaging patterns, daily habits, behavioral obstacles, emotional eating and specific goals or chronic illness conditions)
PLUS
10min Personal Accountability Follow Up Call!

ALL THIS FOR ONLY AN EXTRA $26 p/m!
Your Instructor
Founder of "Free Yourself Holistic Health Coaching"
Member of the International Association of Health Coaches
Associate Member of the International Institute of Complimentary Therapists

Nutritional Presenter at M&C Saatchi '12 Days to Wellness',
Contributor for "Beautiful You Australia" & The Carousel News
Presenter at the Mind, Body, Spirit Festival (Syd, Melb, Bris) 2016 - 2021
Guest Interviewee on e—Health Radio
Published Author - Reboot Your Life

After suffering from severe chronic fatigue syndrome and adrenal burn out in 2011, at the age of 26, Desiree embarked on a personal journey to help heal herself through natural medicine. Using her body as her own personal lab, she performed experiments based on different dietary theories, medicinal herbs and alternative therapies. She discovered the power of food as medicine and slowly started to heal herself……body, mind and spirit. Desiree has studied over 100 dietary theories, practical lifestyle techniques and innovative coaching methods with some of the world's top health and wellness experts. Her education has equipped her with extensive knowledge in holistic nutrition, health coaching, and preventive health. Drawing on these skills and her knowledge of different dietary theories, Desiree works with clients to help them make lifestyle changes that produce real and lasting results. Desiree's mission now is to help make the world a better place by helping people find their inner peace and by restoring health and happiness back into their lives.


"Desiree has helped with correcting my many stomach problems and she has helped me to fall in love with life again!" Samantha



"Working with Desiree over the past few months has been one of the best decisions I have ever made. Her guidance and advice has completely transformed my outlook on food and my body. Desiree has helped me work towards having a less disordered relationship with food. She has taught me to truly understand the impact of my lifestyle choices on not just my appearance, but also my entire outlook on life. Along the way she has armed me practical tools and advice relevant to my situation at the time. I could not recommend undertaking this journey more! Not only will you start to look and feel better, you will have all the tools and knowledge at hand to make it a life long transformation! " - Sarah J



"Desiree guided me both emotionally and with a new diet. I now feel like I have everything under control and I'm able to use the tools that she's given me to continue on my own." Kate H


Frequently Asked Questions
When does the membership start and finish?
The membership starts now and never ends! It is a completely ongoing, self-paced membership - you decide when you start and when you finish.
What if I am unhappy with my membership?
We would never want you to be unhappy! If you are unsatisfied with your purchase, contact us and you can stop your membership at anytime should you chose.
Will I have access to all Weekly Master Classes, Weekly Meal Plans & Workouts?
YES! Each week, the weekly meal plans, workouts, meditations and classes are kept in the vaults or archives sections, so you can revisit at anytime!
How much time do I need to commit to each week?
As much as you like!! There are 2 options recommend for a path to success. The fast track option has you investing approximately 1-2 hours all up each week. The self-paced slow and steady option is entirely up to you! You can take on as much as you like or just pick 1 thing to implement that week!